From the Pastor,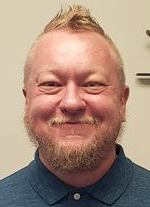 Now that Christmas is over, vacations are wrapping up, guests have left, presents have been opened, and food has been eaten, we enter into the new year. For a lot of people the new year is a new opportunity, a chance to start fresh on this or that. Maybe you are thinking of starting that new diet, or working out regularly? Maybe this year you'll commit to reading a certain number of books? Perhaps you'll manage your money better, or learn something new, or take that vacation you've always wanted to? The possibilities are just about endless!
We have good news when it comes to those things. How successful we are in keeping our new year resolutions does not increase or decrease our value in God's eyes. We're already loved beyond measure by our Creator! Even if we fall off the wagon, so to speak, on any of our best-laid plans, God's love for us doesn't change. We can fail, fall short, fizzle, flop, flounder, or fold; Jesus will still have bridged the gap that was between us and God.
Think of the story of the Prodigal Son in the Gospel of Luke, chapter 15, especially verses 11-16. Jesus continued: "There was a man who had two sons. The younger one said to his father, 'Father, give me my share of the estate.' So he divided his property between them. "Not long after that, the younger son got together all he had, set off for a distant country and there squandered his wealth in wild living. After he had spent everything, there was a severe famine in that whole country, and he began to be in need. So he went and hired himself out to a citizen of that country, who sent him to his fields to feed pigs. He longed to fill his stomach with the pods that the pigs were eating, but no one gave him anything.
Not only does the younger son want his inheritance early, a slap in the face of his still-alive father, but he wastes it all in wild living. In his newfound poverty he finds work with pigs, an unclean animal in Jewish understanding, and can barely feed himself. His resolution to enjoy life blew up in his face! So he does the only thing he can think to do: he returns to his father to be a slave. But the father's reaction is not being angry or sorrowful that his son returned to him, but instead we read in verse 24: "For this son of mine was dead and is alive again; he was lost and is found." So they began to celebrate.
We can find ourselves in this new year (2023, can you believe it?) wanting to make ourselves better by doing this or that. But we must remember, whether we succeed or fail, our worth is ultimately found in God's love for us. The love God has for us doesn't stop because we mess up or fail, and that is a very good thing! We're all prone to missing the mark from time to time; if we're being serious, every day is a chance to either do the right thing or not. But again, our faith in Jesus' life, death, and resurrection keeps us close to God however we succeed or fail. Thank God!
Peace,
Pastor Chuck Meyer
---
Staff & Musicians
Staff:
Pastor: Chuck Meyer
Office Administrator: Amber Gaborit
Director of Music: Diana Wooley
Organists: Bob Barry and Shannon Peterson
Pianists: Bob Barry, Heidi Graben, Angela Iversen, Shannon Peterson
Celebration Choir Accompanist: Heidi Graben
AWE Musicians:
pianists: Heidi Graben and Angela Iversen
vocalists: Heidi Graben, Shelley Hexom, Angela Iversen, Jenna Liberto, Carl Peterson
electric bass and guitar: Pete Iversen and Pastor Chuck
percussion: Dave Madsen